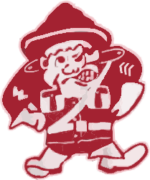 William A. Wirt High School, Gary, Indiana
William A. Wirt Senior High School was built in 1939 and named after Dr. William Albert Wirt, who served as the first superintendent of the Gary Schools from 1907 to early 1938. The school was a 5-year public high school which served grades 8 through 12. Gary Community School Corporation owned and operated the school. William A. Wirt Senior High School was in the Miller Beach neighborhood of Gary, Indiana.
Prior to 1970, Wirt High School was an all-white school. The school was specifically zoned to white students until the Civil Rights Act of 1968 was passed requiring schools to be integrated. This was a success for the high school as the student population became diverse. Every trophy, award, plaque, and picture from pre-1970 (from white students as well) was destroyed in bonfires in 1972.

By 1990, the school was reported to be in poor physical shape. Over 14,000 students attended the school by 1990. All remaining awards and trophies were thrown into dumpsters in the late 1990's, and by this time, the high school had the smallest enrollment out of all the schools operated by Gary Community School Corporation. In May 2009, Gary Community School Corporation announced that the school would finally be closing after over 70 years of operation. The school was nominated with many awards over the years, and it has been asserted that with over 15 million people having attended the school, it was then one of the most attended schools in all of Indiana.

Wirt High School was shut down and closed in 2009 due to budget cuts made by the Gary Community School Corporation based on academically underperforming on statewide tests. In 2011, the site was used for the Wirt-Emerson Visual and Performing Arts Academy, a magnet school for the visual and performing arts students. A few famous athletes who are alumni attended this school. Former Major League Baseball player Ron Kittle is an alumnus of Wirt Senior High School. Professional dating coach and radio personality Alan Roger Currie attended Wirt Senior High School. Vocalist Crystal Taliefero is also an alumna of Wirt Senior High School. The 79-year-old school and one of the anchors of the Miller community officially closed for good in 2018.

(Excerpts of this information are courtesy of the Mixerr Reviews: History of William A Wirt Senior High School explored. https://www.mixerrreviews.blogspot.com/2019/03/history-of-william-wirt-senior-high.html)