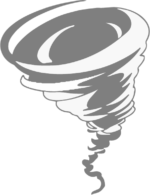 Ralph Waldo Emerson High School, Gary Indiana
Emerson School was Gary's first high school, built in 1909. It was the proud work of a confident new superintendent and would be at the forefront of racial integration decades later. When depopulation starved the school of students in the early 1980s, the district re-organized Emerson into a Visual & Performing Arts magnet school to keep it open. The school would last another quarter-century before mother nature would close it in 2008, one year shy of its 100th birthday.
In September of 1909, the Ralph Waldo Emerson School opened in Gary. It was Superintendent William A. Wirt's masterstroke, a grand structure which featured all the latest amenities. Emerson was the first high school in Gary and was very avant-garde, even incorporating a student-run bank and a zoo. St. Louis architect William Ittner was commissioned to design the school. Wirt's requirements called for thirty classrooms, seven laboratories, separate band and orchestra rooms, art studios, and rooms for industrial and household arts. Ground-breaking began soon after. The new learning center was the first school to have an indoor swimming pool and combined with the double-deck gym with upstairs running track, they were among the most advanced of their kind in the world.
Emerson was originally a white school but overcrowding in 1920s Gary saw the introduction of black students to white schools. To alleviate crowding issues, Superintendent William A. Wirt approved the transfer of black students to select white schools in Gary. Six black students would attend Emerson in 1926, and another eighteen were allowed to attend in 1927. Many in the white community did not stand for it, and large numbers of students staged a walk-out which eventually grew into a strike. 
By 1948, change in Gary leadership had finally brought the walls of integration in Emerson down. The Emerson School flourished for decades, but it experienced a steady decline in enrollment with the shrinking tax base of Gary. By 1981 enrollment was so low the district was forced to transition the facility. A magnet school for the arts would draw additional subsidies to the beleaguered school district, so the financial decision for the board wasn't difficult. Emerson closed as a high school in 1981. It would re-open as a magnet school for the arts a year later with 120 students from grades 5 through 7. Over the years Emerson would expand its enrollment until it eventually included grades 6 through 12. One catch: the magnet program meant no more athletics for Emerson. But what the school lost in sports, it gained in culture. Students could now major in art, dance, drama, band, piano, strings, or voice.
(Excerpts of this information are courtesy of Sometimes Interesting and the Idiot Photographer who brought the reader a rare and unique insight to the history of Gary, Indiana.)