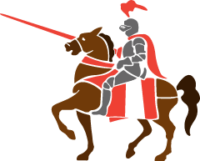 Horace Mann High School, Gary Indiana
Horace Mann School of Gary, Indiana is on the short list of American high schools that have graduated more than 75 classes of students. A creation of innovative educator William Wirt, the unique school took seven years to build and was finished in 1928. The campus set a new standard for the area's public schools by featuring landscaped rolling hills, multiple gyms, and pools, and even a man-made pond.
Minutes from downtown Gary, U.S. Steel executives and their families once lived on the tree-lined streets of the town's upper west side. The Horace Mann-Ambridge neighborhood was defined by classic Georgian brick and stucco architecture. Homes in the neighborhood would boast similar design cues as the region grew and established an identity. The upper west side was pleasant if not beautiful, but growth was limited if the neighborhood lacked its own school. As the town of Gary grew, so did the need for more schools. 
When the residents appealed to Gary Schools Superintendent William Wirt, he listened. Wirt's new platoon-style method of education called "Work-Study-Play" was deemed a success during its launch at nearby Emerson School in 1908. Wanting to expand on his earlier success, the aggressive superintendent drew up plans to add at least four schools over the next two decades. The schools – Froebel, Roosevelt, Horace Mann, and Lew Wallace – were all 3-stories tall and to be constructed in a similar red-brick-with-white-trim classical composition style as Emerson.
Wirt's public school to serve the growing west side was named after education reformer Horace Mann, who pioneered the concept of public funding for schools regardless of sex or race. Mann would be the steel city's third high school when it was established at West 5th Avenue and Garfield Street in 1918 – but it would be constructed in pieces and not officially completed until 1928.
At first Horace Mann consisted of two portable trailers near the street on the large property. The first class consisted of 45 students who had previously attended Jefferson School. Demand for the west side school was greater than initially thought, and in 1919 three more portable units were added behind the first two. A year later Wirt realized permanent structures would need to be built, and in 1921 construction on the present-day Horace Mann School would begin. By 1922 the east building had been erected, and the west building followed two years later in 1924. On November 8th, 1926, the cornerstone for the central building at 524 Garfield Street was finally laid. But Wirt didn't stop there. The Horace Mann School was about to receive a landscaping makeover which would set it apart from every other Gary school and turn Mann into the premiere school in town.
The central building featured 48 classrooms as well as offices for principal, assistant principal, and their immediate staff. It also contained two libraries, an auditorium, a cafeteria, a refectory, two gyms, and two swimming pools (at the time the boys and girls used separate facilities). When it opened, the finished school served Kindergarten through 12th grade.
(Excerpts of this information are courtesy of Sometimes Interesting and the Idiot Photographer who brought the reader a rare and unique insight to the history of Gary, Indiana.)